Chickpeas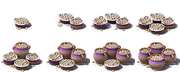 Chickpeas are a food Crop and a Resources in YMIR. They help provide for your Pig's the vital needs.
Chickpeas are grown in Arid biomes, where it is one of only three food crops you can grow the others being Lettuce and Wheat.
Chickpeas and eight other food crops (Bananas, Beans, Potatoes, Corn, Dates, Figs, Rice and Tomato) can only be grown in one specific biome.
| Terrain | Grows |
| --- | --- |
| Nordic | |
| Oceanic | |
| Continental | |
| Tropical | |
| Mediterranean | |
| Arid | X |
| Desert | |