Spears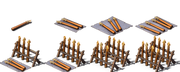 A Spear is a long pointed weapon, allowing one to do thrusting attacks from a significant range. They are among the most effective weapons for fighting in formation.
Spears are a type of Resource necessary to recruit Snouts.
Production
This page references the object Spears. For the Knowledge required to create Spears, please see Spear.