Units (by technology era)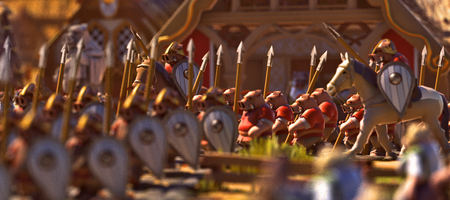 Armies and Militias are the primary methods of recruiting and controlling units in Ymir. The in-game tutorial provides a full explanation for how to create, reinforce, and manage them in the worldmap.
As you progress in the game, new unit types automatically become available for recruiting once the complete set of Knowledges for producing their equipment have been researched, such as unlocking Spear and Leathercloth to enable recruiting for Snouts. As a result, advancing to the next tier of military technology often requires researching several different technologies before any new units actually become available.
To minimize spoilers, the following sections are grouped by technology era. Read ahead at your own risk!
For complete technical details on all units, jump to the second half.
Civilian units represent the basic populace of your settlements and the only units who can use the Settle command to create new cities. While they are simple to recruit, in later eras they come with high maintenance costs when away from home.

Melee units form the heart of most Armies in Ymir and excel in hand-to-hand combat. Throughout the game, players will have the option to pick between several different subtypes of melee units:
Basic Melee units are generally cheap to recruit and simple to equip for combat. These are the best fighters to use if you have an abundance of porcos but a shortage of resources.
Elite Damage units are more expensive, but come with higher Damage, Skill, and often Movement Speed. This gives them a good chance to dodge attacks from melee range and quickly chop down opponents.
Elite Defense units are even more expensive, but bring high Armor and Toughness to the battle, While they lose some Movement Speed and Damage in hand-to-hand combat, they're much more durable against Ranged attacks and wild animals.

Ranged units are a mainstay of Militia defense throughout the game, and usually perform best when they have either a Wall or melee formation between them and the enemy. Later in the game, players can pick between two varieties:
Basic Ranged units are cheap to recruit and simple to equip for combat, but incredibly powerful when combined with defensive fortifications. Each tier of upgrades for these units increased their Attack Range, providing a decisive advantage against units from earlier eras.
Mounted Archer units are more expensive, but the only Ranged with enough Movement Speed to keep up in Mounted formations. When an Army possesses only Mounted units, worldmap movement is 25% cheaper and traveling long distances is significantly easier.

Mounted units are extremely expensive to train for combat, but their very high Mass and high Movement Speed allow for fearsome cavalry charges that can wipe out enemy formations in a single sweep. They're best employed as a separate Army force to take better advantage of their worldmap speed (where they can still join battles with other Armies). Each type requires specialized Knowledges from close contact with one of four species:

Tamed units are exceptionally rare, but players can sometimes obtain various Animal units through exploration events Although they're exceptionally rare, players can sometimes obtain Animal units through "taming" exploration events when moving Civilian units. These animals cannot be re-recruited if they are lost or disbanded, but have nearly perfect stats to serve as earlygame scouts.
Units available after completion of starter quests.
* While Armies may contain these units they can't be recruited voluntarily. Players typically acquire them when starting the game as a Primitive Tribe, from exploration events, or when evacuating a territory.
Units that must be researched to unlock, but can be recruited without any advanced metals.
The following units require Copper resources to produce their combat equipment.
The following units require Copper and Tin resources, then reprocessing into Bronze before producing their combat equipment.
The following units require Iron resources to produce their combat equipment.
Portrait
Unit Name
Profession
Power
Cost per Recruit (1 resource per slot)
Upkeep
Main Hand
Offhand
Chest
Head
Training (Coins)

Voulger

28
Halberd
?
Light Helmet
?
?

Battleswine

40
Long Sword
Padded Armor
Light Helmet
5
1.0

Porcus

39
Short Sword
Heavy Shield
Laminar Armor
Light Helmet
7
1.2

Crossbowpig

45
Crossbows
?
?
?
?
?

Megaphant

804
Crossbows
(Wild Only)
Brigandines
Light Helmet
?
?

Pig-at-arms

62
?
Horse

?

?
?
?
?

Saladin

66
?
Camel

?

?
?
?
?
The following units require Iron resources, then reprocessing into Steel before producing their combat equipment.
(This section is highly technical. If you would prefer a more learning-oriented approach, restart from the first half)
Combat in Ymir is entirely AI-controlled, so players often put a great deal of effort into planning the composition and positioning of their troops ahead of possible engagements. As a result, the stat system in Ymir may be more complex than most players have encountered in other games.
While the exact combat formulas are not currently known, the in-game tooltips provide the following summaries for each stat (edited for clarity and additional details where known):
Passive Stats
Power - A basic measure of Army strength. Affects how much Loyalty is gained from Armies or lost from Militias when units are stationed in a territory.
Movement Speed - Affects the movement speed of the formation during combat and AP cost of traversing the worldmap (slowest unit defines worldmap speed of an Army). As Armies grow larger, their AP costs can increase even further.
Carry - The amount of resources this unit can carry. The formation's inventory capacity is the sum of all its units' carrying capacity.
Pillage - The ability of the unit to participate in offensive Raids or Sacking. Units with 0 Pillage stat will remain passive if they enter these engagements as part of an Army (only relevant for Civilian Units).
Attack Stats
Attack Speed - (Not shown in-game) Determines how many additional attacks (if > 1.0) or fewer attacks (if < 1.0) a unit can fit in each battle tick during an engagement with enemy formations, after the initial combat charge.
Damage - Amount of damage inflicted to the enemy when hit.
Skill - Provides a bonus to hit enemies in melee proportional to the difference in Skill between the units.
Reach - Provides a bonus to hit in melee if Reach is higher than the opposing unit. Also provides a bonus to hit against enemies of higher Mass when they are charging.
Mass - When charging into melee, provides a Damage bonus proportional to current movement speed.
Defense Stats
Dodge - Provides a chance to evade attacks in melee proportional to the difference in Skill between the units, but does not protect against ranged attacks. Evaded attacks deal no Damage.
Armor - Gives a chance to deflect any enemy hit, when they are scored successfully. Deflected attacks deal no Damage.
Toughness - Capacity of the unit to withstand Damage from any enemy hit, when it is has been scored successfully and not evaded or deflected. Determines chances for unit to be wounded to killed as a result.
Cover - Provides temporary, bonus Armor against ranged attacks when a formation is in the lee of a Wall. Each point of Cover provides +1 Armor regardless of whether the units are enemies or allies (the Cover icon will flash above enemy formations who take damage while receiving this bonus during combat).
Action Point Stats
Travel across the worldmap is governed by Action Points, which are largely independent of the unit composition for any Army. However, there are two main ways that unit choice can influence AP usage:
Army Move - The overall movement class for any Army is based on the formation with the lowest Army Move bonus, which is loosely related to their Movement Speed. Almost all units fall into the -2 AP category, with the main exceptions being Horse or Camel units (-3 to -4 AP) and Rockthrowers or Oldpigs (-1 AP) in the starting tribe.
Mounted Bonus - If every unit in an Army has the Mounted unit type, it gains an additional 25% discount on Action Point costs (applied before Army Size modifiers). This allows medium-sized Mounted formations to reach lower AP costs than any other unit type in the game
Once those factors are determined, the Base Action Point rating for any Army can be calculated from the number of units in formations (regardless of unit type). This is calculated against a reference cost of 10 AP, so Armies in the lowest tiers (highest AP reduction factor) tend to be the most sensitive to changes in size.
The next two tables show the maximum number of units allowed for each Base Action Point rating, based on the integer constraint for AP costs. Going over the limit by a single unit will result in +1 Base Action Point costs for the whole Army.
Army Move
Action Point Tiers: Maximum Units in Army
1 AP
2 AP
3 AP
4 AP
5 AP
6 AP
7 AP
8 AP
9 AP
10 AP
11 AP
12 AP
-1 AP
1
23
45
67
89
111
133
155
177
-2 AP
13
37
63
87
113
137
163
187
213
-3 AP
1
29
57
85
115
143
171
201
229
257
-4 AP
17
51
83
117
151
183
217
251
283
317
For Armies with only Mounted units, the Mounted Bonus allows access to much lower AP costs with medium-sized formations:
Army Move
Action Point Tiers: Maximum with Mounted Bonus
1 AP
2 AP
3 AP
4 AP
5 AP
6 AP
7 AP
8 AP
-1 AP
1
29
57
85
115
143
-2 AP
17
51
83
117
151
183
-3 AP
41
81
121
161
201
241
-4 AP
25
75
125
175
225
275
325
The remaining sections provide detailed tables of all the remaining stats for the units in each Unit Type. Interpretation of the stats can be difficult in some places, so it's recommended to refer back to the simplified information in the first half of this article when needed.
Ranged units benefit from an alternate set of Attack stats when performing a ranged attack on enemy units, which behave like their melee equivalents with some minor differences:
Ranged Attack Speed - (Not shown in-game) Determines the time between ranged attacks. Continues for as long as units have ammo remaining.
Ranged Damage - Amount of damage inflicted to the enemy when hit by a ranged attack.
Ranged Skill - Provides a bonus to hit enemies based on this unit's Ranged Skill. Does not provide any bonus chance to evade attacks.
Range - The maximum distance (in terrain tiles) at which a ranged attack can hit enemies. Does not provide any bonus hit chance. If attacked by an enemy unit outside of their available Range, formations will attempt to charge them in melee combat instead.